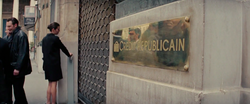 Crédit Républicain de Paris is a bank in Paris that is prominent in Now You See Me.
Crédit Républicain de Paris denied Dylan Rhodes' mother money after his father's death, sending their family into poverty. Étienne Forcier holds an account there.
Now You See Me
Edit
The Four Horsemen rob a truck on its way to the Crédit Républicain de Paris. For their show in Las Vegas, they announce that they will rob an audience member's bank. Étienne Forcier is chosen from the audience to rob the bank. He announces that he holds an account at the Crédit Républicain de Paris. They invite him on stage and "teleport" him to Paris. Really, they send him to a vault under the stage that contains the already-stolen money. The Horsemen instruct Étienne to press a button on the helmet they gave him. The button causes money to rain down onto the Las Vegas crowd. As this happens, Crédit Républicain de Paris employees open the real bank vault to find it empty.
Dylan Rhodes of the FBI and Alma Dray of Interpol were sent to work on tracking down the Horsemen after this robbery.
Now You See Me 2
Edit
When Thaddeus Bradley posts a video about the Four Horsemen he mentions that they "...robbed a bank in Paris from a stage in Las Vegas."
Ad blocker interference detected!
Wikia is a free-to-use site that makes money from advertising. We have a modified experience for viewers using ad blockers

Wikia is not accessible if you've made further modifications. Remove the custom ad blocker rule(s) and the page will load as expected.